Sebo Vacuum Cleaner
Jump to navigation
Jump to search

Repairing an internally damaged mains cable within the reel mechanism.
The fault symptom on this vacuum cleaner was no operation (dead) when connected to the mains supply and switched on.
The majority of electrical appliances require disassembly to diagnose and repair faults and this is often the most time consuming and challenging part of appliance repair. Here, FRC repair volunteers Peter Dobson and Ali Buchanan describe a successful vacuum cleaner repair where they overcame the challenge of a product with a cable reel drum that was not designed for disassembly.
Disclaimer and Safety Warning
[
edit
]
Disclaimer: Any persons attempting to reproduce the acts represented in this article or any other repair information/article on the Repair Cafe Wiki site, either wholly or in part must be aware that they do so at their own risk. Neither the Author/s or contributing Repair Cafes accept liability or responsibility for any loss, damage, injury or any other unexpected consequences as a result of any attempt to replicate the actions in any article.Disclaimer:
This information is intended for sharing between experienced and competent repairers. If you are not technically competent then seek professional advice. You may also invalidate the manufacturers warranty.
Safety Warning: Always check that electrical items are fully disconnected from the mains supply before opening enclosures, and be aware that some items retain charge even when physically disconnected from the mains supply. Always read and comply with safety warnings on the product/appliance and within the manufacturer's documentation; on repair substances, replacement parts, materials and tools used. Always take appropriate precautions to ensure your safety and that of those around you when undertaking fault diagnosis, repair and subsequent testing of any product.
Difficulty level & repair time
[
edit
]
Farnham Repair Cafe - March 2016
Difficulty
Time
Simple
Easy
Moderate
Tricky
Advanced
* hrs
Tools & parts used
[
edit
]
Screwdrivers
Custom (hand-made) pawl tool
Wire cutter and stripper
Soldering Iron
Heat-shrink sleeving
Heat gun
Repair procedure
[
edit
]
Inspection showed a damaged mains cable about 10cm from its termination in a self-reeling drum inside the machine.
The only way to repair this was to disassemble the self-reeling mechanism, cut off the 10cm of damaged cable and re-terminate the cable within the self-reeling mechanism. This proved to be very difficult as the self-reeling mechanism was not designed to be disassembled.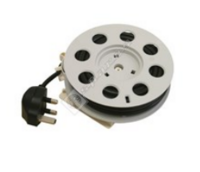 There were several plastic pawls (small levers that engage with the teeth of a ratchet) holding the two halves of the reel drum together with a slip ring (a device that transmits power from a stationary to a rotating assembly) in the middle of the drum.
-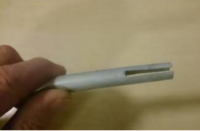 After some consideration it was decided a 'tool' would need to be made to get the two halves of the reel drum apart to access the cable termination. This was achieved by cutting two grooves into an odd piece of aluminium piping which happened to be exactly the right size. The home-made 'pawl opening tool' was inserted inside the centre of the drum assembly to pull the four plastic pawls apart to allow the two halves of the drum to be separated.
-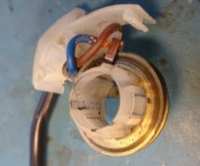 Once the reel drum had been taken apart the damaged section of cable was cut out, but to re-terminate the cable it had to be connected to the existing crimp pins used on the slip ring assembly. In the picture the damaged cable is just out of shot.
-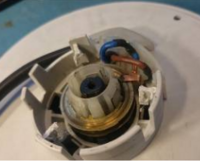 The cable was cut about 20mm from the slip ring crimp pins and an in-line solder joint was made up and covered with heat-shrink sleeving. The in-line joints are not subject to stress because they are downstream from the cable clamp.
-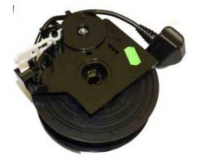 Having completed the cable joints and checked that they were safe the reel drum was reassembled and the cable tension on the reel assembly was reset by torqueing up a tension spring that kept trying to escape!
The vacuum cleaner was then fully reassembled and tested and now with an undamaged power cable is once again safe to use. This repair is a good example of the efforts required to repair a product that is actually not designed for disassembly and repair.
Comments
[
edit
]
Most products are not designed for disassembly or repair. A system for assessing ease of disassembly and reparability would be a useful guide for designers of consumer products. Although some standards are available on the reparability of electrical and electronic products, there is only one rating system on reparability, developed so far, just for smartphones, tablets and computers IFIXIT smartphone reparability. Products are rated on a scale of 0-10 on the ease of disassembly and repair, based on the availability of service manuals, types of tools needed, use of adhesives, ease of component including battery replacement and time required to disassemble. Such rating systems might provide a useful guide for product designers.
Useful links
[
edit
]